Written by Mbulelo Baloyi
2011 Year of Performance
One of government's recent job-creation programmes is the Department of Transport's S'hamba Sonke Programme. This R22 billion initiative, launched in April this year, will create more than 66 000 job opportunities. Already, an amount of R6,4 billion has been set aside for the present financial year.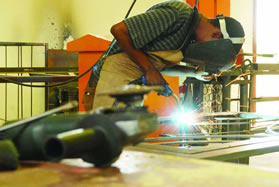 In addition, up to 64 000 new jobs have been created in addition to the 41 000 jobs created in the informal sector, according to the Department of Economic Development. These new job opportunities are as a result of government's job-creation plan, known as the New Growth Path.
In the agricultural sector, the national and provincial departments are currently providing support to more than 100 000 smallholder farmers.
The Department of Water Affairs and the Department of Environmental Affairs have also created 30 000 jobs through their various programmes, which form part of the Expanded Public Works Programme (EPWP). This number is expected to double during the next financial year. Among these programmes are the Working for Water, Working on Fire, Working for Wetlands, the Invasive Alien Species Removal Programme and Land Care Programme.
The Department of Cooperative and Traditional Affairs through its Community Works Programme has created 89 689 jobs in 45 municipalities.
The Department of Higher Education and Training along with the Departments of Labour and the Department of Economic Development have joined the private sector and signed a national skills accord. The accord binds government and its social partners (organised labour and business) to increase training. In addition, the accord commits the three parties (government, labour and business) to grow the skills base of the economy.
In terms of the accord, up to 30 000 new artisans will be trained during the present financial year with government taking 31 per cent, while state-owned companies will take about 13 per cent. The remaining 56 per cent will be trained by the private sector. Between this year and 2015, state-owned companies such as Eskom and Transnet will train at least 20 000 people as apprentices and learners.
Apart from these programmes, the Department of Public Works' EPWP has resulted in jobs for more than 308 000 people since the beginning of the present financial year in April. These jobs, in the infrastructure development sector, form part of Phase Two of the EPWP.